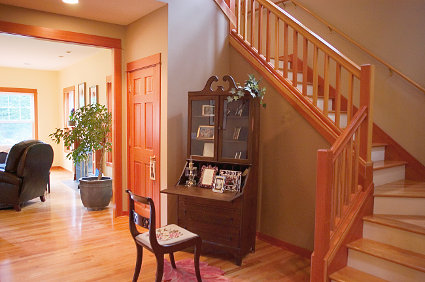 A fresh paint job is one of the most cost-effective improvements you can make to your home.
You'll get the job done right with Indigo Painting Company, protecting and improving homes for 13 years on Bainbridge Island and in Poulsbo and Kingston, Washington.
Interior services include:
walls, ceilings, trim
doors
windows
paint & stain
decorative murals
color design
repairs of texture, holes, cracks, sheetrock
stain to paint
glazing & specialty finishes
Color Is Our Therapy for the Northwest
Whether you are updating color, or freshening existing paint colors, Indigo Painting delivers the look you are after.
From a warm, vibrant look, to a cool, serene one, or a restful, neutral color scheme, you get an inviting look to your home.
Picking paint colors and getting combinations of colors that work together, for your home, and its unique rooms and lighting, can be a challenge. Indigo Painting Company provides one-on-one color design to select paint colors for a color scheme that look great and delights you.
Repaints, Remodels, Tune-Ups Before or After the Sale
Indigo Painting Company has experience with all types of interior painting jobs. We use quality materials for results that last.  Your home will be treated with great care. After we make sure that you are completely happy with the final results, we leave your home neat and tidy, ready to be enjoyed.
Cabinets, Doors, Repair, Staining & Specialty Work
Thinking about repainting your cabinets or interior doors rather than replacing them? Give Indigo Painting a call. We have achieved beautiful results for clients. Our professional equipment, use of the right materials and experience results in durable, attractive finishes.
Environmentally Friendly
Indigo Painting wants to do its part to insure we contribute to a healthy, viable future for our world and future generations. Fortunately, new and exciting products are on the market today.
Indigo Painting is constantly using and testing new safe finishes to use in your home or office. Some of these products say they can seal toxins in the walls. If you have concerns about chemical sensitivity for you and your loved ones or clients, we welcome the opportunity to discuss safe, non-toxic finishes with you. We can do a walk through with you and discuss the available options.
Certifications



Licensed, Bonded & Insured